Action alert from the Farm and Ranch Freedom Alliance: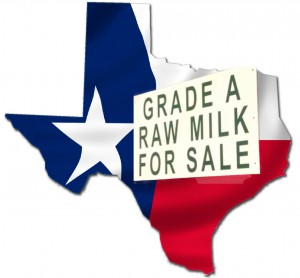 After several delays, Harris County is pressing forward with the prosecution of a woman who picks up raw milk from a licensed farm for herself and others.
We ask that if you are in or near Harris County, please support this woman & local food consumers by appearing at the trial in Pasadena next Wednesday, June 14. Details are below.
While the Texas Department of State Health Services initiated the harassment of raw milk farmers and consumers last summer, it later stated that it will not pursue customers who are making legal purchases, nor the people they hire as agents to pick up milk for them. (Read more here.)
But Harris County is still pressing forward with the trial to prosecute this courier.
The County has been given the written agreement, signed by individual customers, in which they made the woman their agent and asked her to pick up milk on their behalf from a licensed, inspected dairy. Not one customer has gotten sick and no one has complained.
People pick up groceries for each other all the time. Every day, FedEx and UPS deliver food ordered online. UberEats and numerous others provide home delivery of food. None of these hold food establishment licenses. Yet the County claims that this raw milk courier has to have the same license as a restaurant or food truck.
While the prosecution is motivated by anti-raw milk bias, the legal principles are not limited to one product —   the regulation cited by the County applies to all foods.
Can you help defend this woman —   and, in the process, defend your right to ask someone to pick up food from a local farm for you?
We need as many people as possible to be in the courtroom next Wednesday, to send the message that the raw milk courier has the support of the community.
The judge and jury need to see that local food supporters are not a fringe group —   they are just regular people who want to provide healthy food to their families.
TAKE ACTION: Come to the trial!
WHERE: Justice Court, Precinct 2, 101 South Richey, Suite B, Pasadena, TX 77506
WHEN: Wednesday, June 14, at 1 p.m.
WHAT: After you enter the building, turn left to go to Judge George Risner's courtroom at the end of the hallway. Enter quietly, and take a seat.
PLEASE be respectful of the proceedings. Any disruption will hurt the cause, so no signs, no verbal outbursts, no applause or groans, etc. You can do the most good by conducting yourself in a calm, professional manner.
We will have lapel stickers available so that you can identify yourself as a raw milk supporter. We want a large, visible show of support for the raw milk courier! 
We need to change the rules that favor Big Agribusiness and Big Food over small-scale, local producers.  Please consider joining or making a donation to FARFA to support our work to help independent family farmers and protect a healthy and productive food supply for consumers.